Posted on
For banks and financial institutions, security doesn't begin at the vault or the teller line—but rather, outside the building. To keep customers and employees safe, it is critical to ensure that your exterior spaces—the parking lot, exterior doors, night depository and outdoor ATMs—are well-lit.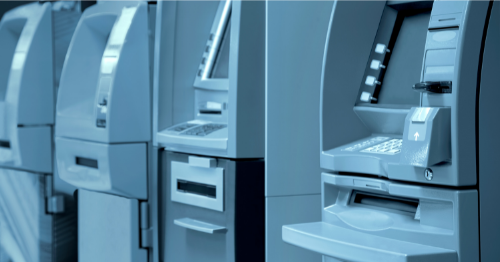 Bright, consistent lighting acts as a deterrent to potential robberies, and can also prevent crimes of opportunity, such as muggings by the ATM. Good lighting also works in tandem with your video surveillance system, allowing security cameras to capture clearer footage with more accurate colors and sharper details.
Security lighting is a bright idea for other reasons, too. A variety of energy-efficient products and building automation options can boost your bank's bottom line, saving you money on maintenance and energy costs. Exterior lighting can also create a welcoming atmosphere and build trust with both current and potential customers. Don't underestimate the power of making a positive impression—even with the growing use of digital banking tools, many customers still prefer to do business in person, or at least to have a nearby branch they can visit if needed
Assessing Your Current Exterior Security Lighting
A security professional should make an on-site visit to your branch during the dark evening or nighttime hours to get a comprehensive picture of your current exterior lighting as well as your needs. During this assessment, they will take note of:
Exterior features of the building. This includes the parking lot, building entrance(s), the night depository, and both walk-up and drive-up ATMs.
Exterior landscaping. Are there large bushes or trees where criminals can hide to watch your day-to-day operations or to wait for an unsuspecting customer to prey on? Does any of your landscaping occlude the view of security cameras?
Current lighting. Where are fixtures currently positioned? Are all lights operational? Is the light bright enough, projecting far enough, and providing wide enough coverage to be considered effective?
The overall safety of the area. What is the crime rate like in the neighborhood? Have there been robberies or muggings at your bank (or at nearby businesses) in the past? Do your employees feel safe walking to their cars after work?
The brightness (or darkness) of the general area. Are there neighboring properties that illuminate your exterior spaces? Are you located in a high-traffic area?
Remediating and Upgrading Your Exterior Lighting
After your security consultation, you'll know where your facility needs additional or better-quality exterior lighting. Solutions will likely range from simple and inexpensive to the more complex and involved.
Upgrade to LEDs. These bulbs provide optimal performance, with no "warm-up" period before reaching their full brightness. They can last years longer than other bulbs, while using the least amount of energy—all of which can translate into big savings on maintenance, repair, and energy bills, compared to traditional halogen and fluorescent bulbs.
Assess your lighting in all seasons. Commit to enhancing your security year-round. Heavier foliage in the summertime may leave certain areas in the dark, requiring additional lighting to achieve the same coverage.
Schedule regular maintenance checks. Don't be left in the dark—regular inspections will ensure that all exterior lights are operational.
Take precise control. Consider integrating your lighting with a building automation system, which may also incorporate your heating, cooling, and security systems. This is a simple way to manage and adjust when the lights come on—you can even get notifications if a light burns out.
---
The needs of every institution are different, and there may be other ways to protect your staff and customers, while reducing your bank's exposure to risk. To make sure you're covered, schedule a consultation with an ISG security professional. We specialize in commercial security solutions and have worked with financial institutions for more than 30 years—let us shed some light on your facility's security.
---