Posted on
Long-awaited retail sales of recreational cannabis finally began in New York State last month, nearly two years after the Marijuana Regulation and Taxation Act (MRTA) was signed into law. The state has embraced the new industry, which is slated to create jobs and increase tax revenues—but for dispensary licensees and license applicants, there are still many hurdles to overcome, including strict security requirements.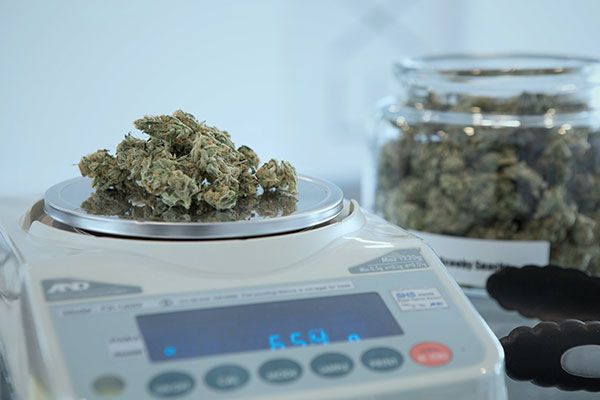 To deter theft of both product and profits, adult-use dispensaries must follow the security regulations laid out by the New York Office of Cannabis Management (OCM). To ensure complete compliance, you'll need an extensive list of high-quality security equipment, so this is a job that should only be entrusted to a reliable security company. Still, licensees will need to maintain a cannabis dispensary security plan and training documents that detail these measures, so it's important to have a thorough understanding of the rules. Below, we'll take a look at the criteria to help you get a comprehensive overview.
Surveillance Systems
New York dispensaries are required to have a video camera system that covers all points of entry and exit, point-of-sale areas, safes or vaults, any other areas where cannabis products may be stored or displayed, and the entire parking lot. Clearly, a single camera won't be enough to provide this level of coverage; you'll need a networked system of cameras that can capture activity anywhere on your property. Plus, to allow for the identification of anyone who enters, exits, and/or makes a purchase, your cameras must be precisely positioned. This alone can be a huge task—but it doesn't end there.
The State's goal is to ensure that your surveillance system can quickly and easily translate into evidence should a crime occur, so they've also mandated that your recordings be:
Continuous. Cameras must record continuously during your hours of operation, and at any time when cannabis products are being handled. Outside of those times, the cameras can be motion-activated.
Clear. You must have the ability to immediately produce a high-quality, full-color photo from your footage, both live and recorded.
Time- and date-stamped. All footage should be accurately marked so as to leave no doubt about when it was captured.
Useful. You must be able to export and archive your footage in a format that allows for authentication, guaranteeing that no alterations have been made.
Preserved for 60 days. All recordings must be accessible for at least this time period.
To meet these requirements—and to help protect their operations—dispensaries will need to invest in a robust video camera system with ample storage capacity.
Lighting & Landscaping
As you may expect—when considering how you'll capture clear video footage of your entire parking lot, even at night—good lighting is also a requirement under the OCM's regulations. Both indoor and outdoor perimeter lighting must be in place to enable adequate video surveillance.
To this end, your landscaping (including all trees, shrubs, and bushes on your property) must be maintained to prevent areas of deep shadow where a person might conceal themselves from sight, or where a camera might not be able to record clearly. In most cases, you'll need an experienced security professional to ensure that your lighting is sufficient around the clock and throughout all seasons of the year.
Alarm Systems
Preventing unauthorized access to your facility is an important component of cannabis dispensary security plans. All entrances must be secured, with both doors and windows locked, but dispensaries must also go beyond this and install a commercial-grade perimeter alarm system.
In addition to integrated video surveillance, your security system must:
Communicate with a designated person and a third-party central monitoring station when intrusion is detected.
Include a failure notification system that alerts a designated person within five minutes of equipment failure.
Be able to remain operational for at least eight hours during a power outage.
Maintenance & Testing
Of course, a security system can only be effective if it stays in good working order. New York law requires that dispensaries' security equipment be inspected and tested at least every 30 days, with records of all tests maintained for five years. For business owners who already have a never-ending task list, this requirement can be a hassle—and it can be too easy to put it on the back burner. By working with a local security company who can manage and oversee all required testing, you can ensure that your dispensary remains in compliance.
The rules can be overwhelming—but ISG can help. Contact us today to discuss your dispensary's security plan. We can help you develop a plan that meets all regulations, and oversee monthly testing so that you stay compliant.
---