Posted on
A facility fire is one of the most devastating events a business can experience. Even after the flames have been put out, the long-term impacts of a workplace fire are often disastrous. With your property, equipment, and files destroyed, the entire company you've built is now at risk—in fact, many businesses that experience a fire will never re-open.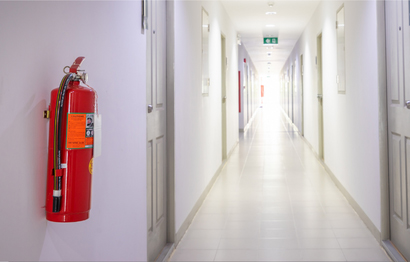 The best way to protect your business from disaster like this is to take steps to prevent it from ever happening. Hiring a reputable company to install a high-quality fire and smoke detection system is the first step. ISG can customize your commercial alarm systems with the addition of heat detection, sprinklers, and emergency evacuation options. We can also perform regular inspections, cleaning, testing, and calibration of your detectors to ensure your system is always running at peak performance.
Even with a high-quality, optimized alarm system, however, there is no substitute for commercial fire alarm monitoring services. When disaster strikes, every second counts—and an alarm is worthless if it's not being monitored around the clock.
With commercial fire alarm monitoring from ISG, signals sent from your alarm system are monitored by trained professionals 24 hours a day, 7 days a week, every single day of the year—no exceptions, no excuses. We'll dispatch help immediately if an alarm is triggered at your business. Whether it's the middle of the night or during your hard-earned vacation, you can rest assured knowing that your facility is in responsible, reliable hands.
The Com Series™: Commercial Fire Alarm Monitoring Systems
It's a common misconception that you need to continue paying for old-fashioned phone lines for your fire alarm system. While telephone lines were once the best way to transmit alarms to a monitoring center, new technologies can provide faster, more reliable connectivity.
Eliminate the antiquated phone lines and upgrade to our new Universal Fully Supervised Dual Technology (Internet & Cellular) Fire Alarm Communicator, which works with almost every alarm panel. As the name suggests, the Com Series™ unit uses dual technologies—both internet and cellular—to communicate with the monitoring center:
IP monitoring uses Wi-Fi to send signals out at unprecedented speeds, though it depends on power and internet access.
Cellular monitoring provides consistent, continuous service, even when the power is out.
By incorporating both technologies, this unit provides better reliability, saves you money, and enhances the secure communication of your system's signal to our monitoring center. Your facility is safer and more secure—even during severe weather or if a burglar attempts to disable your alarm.
Learn more about our commercial fire alarm monitoring & solutions, and get an estimate for your business.
---